From Myths with thanks also for the comments by Truthiness2.
You posted:

   Faithlilly
   What do you think it is about the McCanns that elicits such behaviour ?  
You were referring to the graffiti that decorates the Eden that is PDL?

I'm going to answer your question as best I can:

The abduction of a child in a small town in Portugal has acted like sticky flypaper for the worst group of misfits, oddballs, rejects and psychologically disturbed people that modern culture has experienced in a long while.

It allows them (you) to forget their sad, empty lives for a while and use the McCanns as a social media punch bag: Supressed rage at your mothers, fathers, social services, doctors, the police, the government, Celtic FC, your health, fate, life, is all aimed at two strangers; their children, their extended family and Madeleine herself.

Nothing is beyond limits - stalking them, harassing them, threatening to abduct their twins, threatening to shoot them, tearing down images of their missing child, stalking them at the gym, stalking them at events their children take part in...etc

It's a 24/7 job for you all: No online newspaper escapes your organised spamming of their comments section. No journalist on twitter who dares to express sympathy for them is spared an organised hate and harassment campaign. Facebook recruits are groomed and wooed to the hate campaign with lies and myths.

The fact that two police forces have stressed that the McCanns are not suspects in the disappearance of their child is just ignored by you all because it would spoil your hobby and block an outlet for all that unrecognised self-hatred; and god knows there's nothing else to fill that huge empty psychological hole.

Now, when Portuguese police and SY are working together to find out what happened to a missing child, an illiterate troll - one of your own - has defaced PDL and the good name of Portugal with, essentially, an anti tweet writ large in paint on a wall.

What elicits such behaviour? Not the McCanns, you vile woman, but poisonous venom and a deep hatred that was lying within that person long, long before 'Meddie' was even heard of.
Well said    
This is the graffiti decorating the Eden that is PdL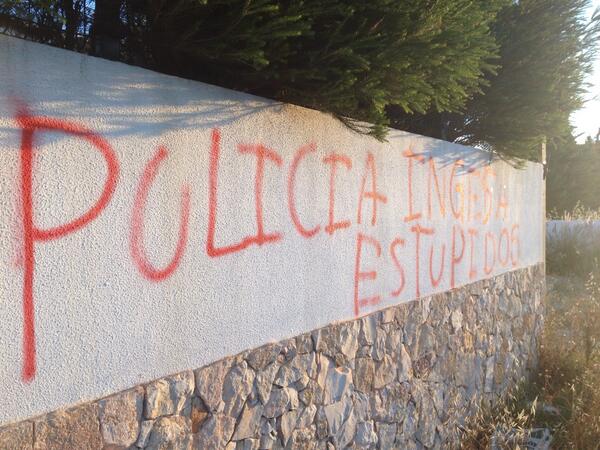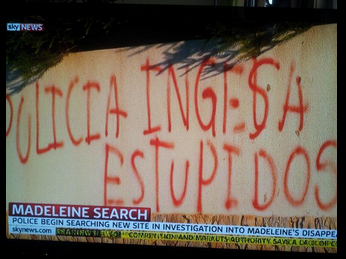 Remember these?