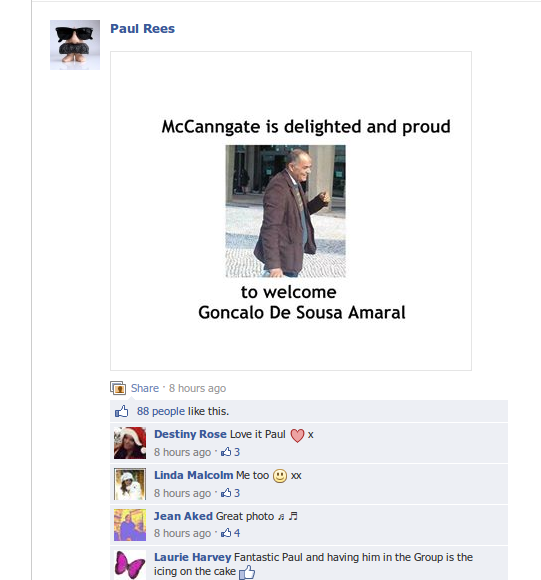 The worship of an a**ehole begins.

Philip Rothley Pillowcase Anderson Marvellous!
8 hours ago · 8

Paul Rees bem-vindo!
8 hours ago · 4

Laurie Harvey bem -vindo!
8 hours ago · 4

Lisa White Very glad to have him become a member, I hope it makes him see that his good work has not been in vain & that the British public slowly but surely are having their eyes opened to this case !! Warmest welcome to Mr Amaral xx
8 hours ago via mobile · 10

Mikki Wells Bem-vindo e boa sorte senhor!
8 hours ago via mobile · 4

Petra Johnson Welcome BOSS xpx
7 hours ago via mobile · 5

Caroline L'Estrange Maravilhoso - wonderful. Great news.

Hilary Jane Warnock I've wanted to hug Goncalo for such a long time and now hopefully I can with my words at least! Thank you soooo much for your relentless struggle with this case, you are in my thoughts and prayers!
Hmmmm.   Peter Verran on Injustice 'disappears' and this loon pops up.  Now, to me, cynic as I am, this looks to me like another feeble stunt.   Okay, prove me wrong.