Some salient points re the above from another forum, with thanks.   Sykes
1. As she was irate over being accused of faking a jewel heist in Paris, Ms Kardashian is the last person who is likely to be throwing accusations around.
2. And most importantly,
THAT ISN'T KIM KARDASHIAN.
No, it's only some kind of bizarre fan site - this should have been a Big Clue:
Kim Kardashian Website
11 hrs ·
Damn the Foo Fighters are playing a secret pub gig in Frome, England right now. I grew up about 2 minutes from that place.
Really, must have been a long distance parenting as "Kardashian was born on October 21, 1980 in Los Angeles, California".    

This is the real one: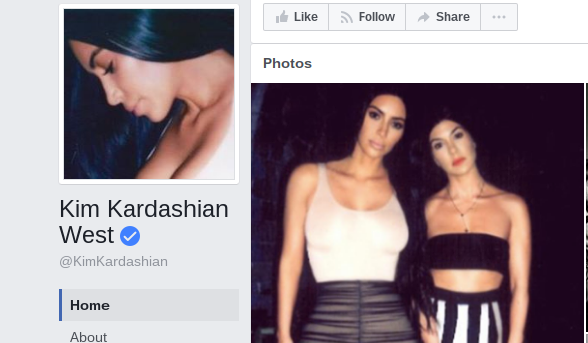 Bennett clutching at any passing straws:

It is clear from the above that Jodie Marsh has a much better grasp of the factual information about the reported disappearance of Madeleine McCann than does Kim Kardashian.

Also, from what little I have gleaned about Jodie Marsh in the past few days, I feel sure she would not make this kind of hateful quote by Kardashian: "Awful people deserve every bit of hate they get".

She is in danger of investigation by Scotland Yard and Martin Brunt!

Jodie Marsh and Kim Kardashian may not be the ideal choice of people we would want to see raising questions about the abduction narrative promoted by the McCann Team and, for the last six years, by the government and Operation Grange.

But what these two celebrities appear to be are surely 'straws in the wind' - a clear indication, since those worldwide headlines: 'McCanns not cleared', that the wind is beginning to change direction.