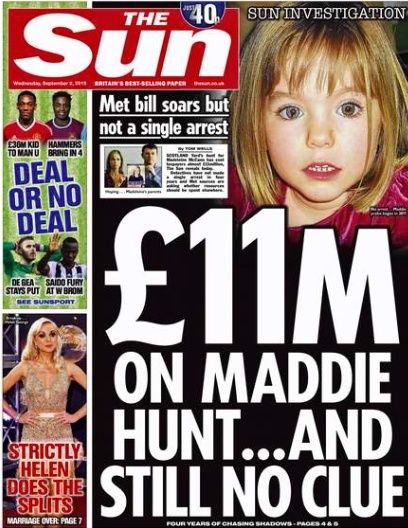 'We can't keep on chasing shadows'

Ex-Flying Squad chief John O'Connor urges Scotland Yard to consider ending search

A FORMER Flying Squad chief yesterday urged Scotland Yard to consider winding down its hunt for Madeleine McCann — adding: "You can't keep chasing shadows."

John O'Connor said the spiralling cost of the four-year investigation and the seeming lack of progress meant the Met must now ask itself whether resources should be focused elsewhere.

He added: "If there are no firm leads, and by that I mean no substantial operational things like active surveillance on suspects, then I'd have thought they should be considering winding it down now."

His comments come as a Sun investigation today reveals the Met's inquiry into Madeleine's disappearance from the Portuguese resort of Praia da Luz in May 2007 has cost taxpayers almost £11million.

At the current rate it will top £12million by April — more than double the £5million promised by David Cameron when Operation Grange was launched in May 2011.

The task force, which at its height was 37 strong, has yet to make a single arrest.

Tens of thousands of pounds have been spent on flights to Portugal and to investigate other sightings around the globe.

Mr O'Connor added: "You can't keep chasing shadows. Chasing sightings all over the world. It depends on whether the detectives are making any real progress. For me it needs to be reviewed by a senior officer.

"The Met's rank and file would be thinking, 'Are there more recent cases that could be progressed with the right resources?' It's about priorities."

The initial Portuguese investigation into three-year-old Madeleine's abduction was marred by blunders.

Officers made the catastrophic mistake of deciding parents Kate and Gerry were the key suspects — and so failed to take elementary steps to secure evidence that might have caught the real abductors.

They failed to seal off the family's apartment, allowing the crime scene to become hopelessly contaminated.

They also failed to put out a global missing persons report for five days and did not bother to set up checkpoints in and around the Algarve.

In July 2008 the Portuguese authorities admitted there was no evidence against Kate and Gerry and said the unsolved case was to be closed.

Then in May 2011, following a campaign by Kate and Gerry that was backed by The Sun, the PM told Scotland Yard to launch its own investigation, called Operation Grange.

It cost around £2million in its first year. By 2013 that had risen to £4.8million — then £7.4million in April 2014.

The figure stood at £9.8million in April and is now thought to have reached £10.8million. It is projected to hit £12.2million by April 2016.

In 2014 alone Met staff took 67 return flights to Portugal at a cost of £16,000. The bulk of the rest of Grange's costs come from salaries, overtime and premises expenses.

There are currently 30 police and support staff working on the hunt for Madeleine, who would now be 12. The inquiry is headed by Detective Chief Inspector Nicola Wall.

In March the soaring costs and lack or progress prompted Met Police Federation chairman John Tully to question whether the investigation should continue. He said: "We no longer have the resources to conduct specialist inquiries all over the world which have nothing to do with London.

"It is surprising to see an inquiry like the McCann investigation ring-fenced. I've heard a few rumblings of discontent about it from lots of sources."

A source close to the McCanns said yesterday: "Kate and Gerry are eternally grateful to the Metropolitan Police for making Operation Grange possible.

"They are pleased so many officers are still looking for Madeleine."

There are currently 155 children on the Missing Kids UK website, including Madeleine. Research shows an average of £2,415 is spent investigating a missing child.

http://www.thesun.co.uk/sol/homepage/news/6617444/11m-spent-on-Maddie-hunt.html
Cost of Madeleine McCann investigation 'spirals to £11m' as Met Police advised to 'consider winding probe down'

22:52, 1 SEPTEMBER 2015 UPDATED 23:08, 1 SEPTEMBER 2015

BY ALEX WELLMAN

Ex-Flying Squad chief John O'Connor questioned whether or not the spiralling cost of looking for clues as to the whereabouts of the child was the best use of public cash

British police hunting for missing Madeleine McCann have been advised to consider winding down the investigation by a former top cop.

Ex-Flying Squad chief John O'Connor questioned whether or not the spiralling cost of looking for clues as to the whereabouts of the child was the best use of public cash

Mr O'Connor called for a senior officer to review Operation Grange - the Metropolitan Police's operation set up to find Maddie - and draw a line under it, if it was deemed to not be the best use of resources.

Speaking to The Sun, he said: "If there are no firm leads, and by that I mean no substantial operational things like active surveillance on suspects, then I'd have thought they should be considering winding it down now."

The police operation to find Maddie was launched in May 2011 by Prime Minister David Cameron after the child went missing in the Portuguese resort of Praia da Luz in four years earlier.

According to The Sun, Operation Grange has so far cost the British taxpayer almost £11 million, but this could balloon to £12 million by April next year.

The Missing Kids UK website has 155 children, including Maddie, registered but research shows an average of just £2,415 is spent investigating disappeared youngsters.

Mr O'Connor told The Sun: "You can't keep chasing shadows. Chasing sightings all over the world. It depends on whether the detectives are making any real progress."

There are 30 officers and support staff currently working on Operation Grange and in March this year, Met Police Federation chairman John Tully voiced his concern about whether or not the investigation was a good use of cash.

He said: "It is surprising to see an inquiry like the McCann investigation ring-fenced. I've heard a few rumblings of discontent about it from lots of sources."

A source close to the McCanns said the family was eternally grateful to British police for launching the operation to find their daughter.

http://www.mirror.co.uk/news/uk-news/cost-madeleine-mccann-investigation-spirals-6365140
http://www.mirror.co.uk/news/uk-news/british-cops-say-madeleine-mccann-6370080

British cops say Madeleine McCann investigation "still live" despite calls for it to be wound down

20:10, 2 SEPTEMBER 2015 UPDATED 20:23, 2 SEPTEMBER 2015

BY GERARD COUZENS

Sources reveal police are still determined despite the case costing UK taxpayers £11 million

The British investigation into missing Madeleine McCann is still "live" and is not about to be wound down, sources have revealed.

The news comes after ex-Metropolitan Police officer John O'Connor yesterday questioned whether the hunt for the missing child was a good use of resources.

It has been claimed the Scotland Yard operation has already cost the taxpayer £11 million but there have not yet been any arrests.

But well-placed sources in Portugal insisted there was no evidence to suggest Operation Grange was going to be shelved in the short or medium term.

And they said they were expecting to receive a new international letter of request shortly from UK authorities - the second since DCI Nicola Wall took over from previous Operation Grange boss Andy Redwood at the end of last year but the first she will have been involved in preparing.

The regular meetings DCI Redwood held with his Portuguese counterparts in the Algarve city of Faro have been put on hold since the takeover.

Her successor is understood to have asked police in Portugal to put on hold some of the work they were undertaking while she reviewed outstanding requests and the way she wanted to progress in the future.

Responding to grumbles about the cost of Scotland Yard's probe and fresh claims it should be wound down, the Portuguese source insisted: "Nothing is going to be shelved.

"Co-operation right now between the British and the Portuguese police is at a moment of great synchronisation."

Portugal's Attorney General's Office, which in May confirmed it had so far received five British requests for international cooperation on the Madeleine McCann case including one in January 2015, did not respond to emails today.

But insiders said they were expecting to receive a new request shortly.

The Scotland Yard inquiry is running separately to a Portuguese probe into Madeleine's May 3 2007 disappearance.....more at link.
Search for missing Madeleine McCann is 'very live' and will 'not be closed by police'

THE search for Madeleine McCann is still "very live" despite claims it is to be wound down, sources close to the case claim.

By GERARD COUZENS & PETER HENN

PUBLISHED: 21:27, Wed, Sep 2, 2015 | UPDATED: 22:06, Wed, Sep 2, 2015

http://www.express.co.uk/news/uk/602598/Madeleine-McCann-case-not-to-close